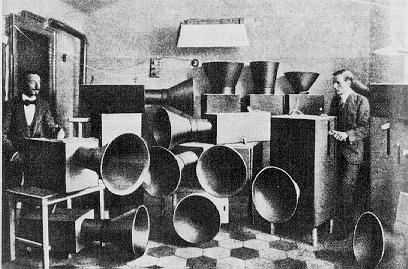 Luigi Russolo
Intonarumori: Crackler (1:05) Hooter (1:42)
Luigi Russolo (1883 – 1947) was an Italian Futurist painter and composer, and the author of the manifesto The Art of Noises (1913). Russolo argued that the new complexity of the world, brought about by the industrial revolution, demanded a new attention to sound in music. The modern orchestra, he argued, should contain instruments capable of delivering the sounds of the industrial environment as well as those from nature. It is not hard to imagine how audiences of the time reacted to Russolo's noise machines. Below are some extracts from The Art of Noises (l'arte di rumori).
At first the art of music sought purity, limpidity and sweetness of sound. Then different sounds were amalgamated, care being taken, however, to caress the ear with gentle harmonies. Today music, as it becomes continually more complicated, strives to amalgamate the most dissonant, strange and harsh sounds. In this way we come ever closer to noise-sound.
•••
This musical evolution is paralleled by the multipication of machines, which collaborate with man on every front. Not only in the roaring atmosphere of major cities, but in the country too, which until yesterday was totally silent, the machine today has created such a variety and rivalry of noises that pure sound, in its exiguity and monotony, no longer arouses any feeling.
•••
Although it is characteristic of noise to recall us brutally to real life, the art of noise must not limit itself to imitative reproduction. It will achieve its most emotive power in the acoustic enjoyment, in its own right, that the artist's inspiration will extract from combined noises.

Here are the 6 families of noises of the Futurist orchestra which we will soon set in motion mechanically:

1
2
3
4
5
6
Rumbles
Roars
Explosions
Crashes
Splashes
Booms
Whistles
Hisses
Snorts
Whispers
Murmurs
Mumbles
Grumbles
Gurgles
Screeches
Creaks
Rumbles
Buzzes
Crackles
Scrapes
Noises obtained by percussion on metal, wood, skin, stone, tarracotta, etc.
Voices of animals and men:
Shouts
Screams
Groans
Shrieks
Howls
Laughs
Weezes
Sobs

- Luigi Russolo, from The Art of Noises 1913
Additionally, here is a video of of two recreated Intonarumori in action.